We're compiling a growing number of profiles of past Hutchins staff members. Further individual profiles will be added in time.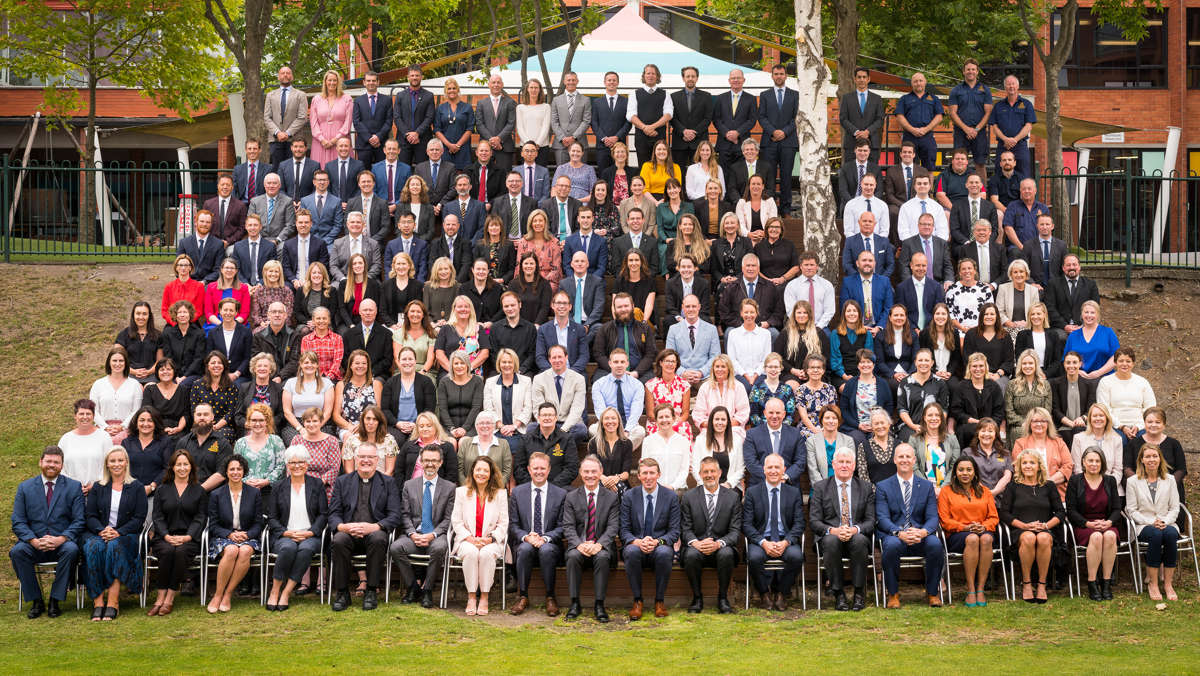 (Back Row L–R) Dr Nick Eaves, Alice Harris, Ivor Leonard, Mike Conacher, Nicole Bury, Stuart Hammond, Joanne French, Matthew Groves, Matt Eaton, Scott Cashion, Simon Reid, Dr Adam Grover, Shane McAloon, Paul Bonnitcha, Sam Fenney, Hugh Miller, John Tinning.
(Row 8 L–R) Justin Bowman-Shaw, Robert Tuck, Jason Berry, Anthony Hyland, Jean-Yves Theron, Sam Manson, Erik Marr, Elizabeth Griffiths, Jodie Schafferius, Louise Allwright, Bronya Czaplinski, Dr Keith Martin-Smith, William Lelong, Richard Gard, Daniel Smith, Stuart O'Brien.
(Row 7 L–R) Matthew Sayers, Martin Chambers, James Bourne, Daniel Blake, Gina Fenney, Anthony Apted, Anthony Peck, Paul Goodluck, Amanda Husband, Alice Scott, Kezia Mellers, Anna Nicholas, Kate Corkhill, Bill Sherwin, Jack Pereira, Dr Adam James, Alex Delpero.
(Row 6 L–R) John Tulk, Dion Hughes. Travis Little, John Groom, Jason Yang, Mark Oates, Rachel Lucas, Fiona Moroney, Edward Thompson, James Seddon, Ella King, Pamela Tonelli-Pirie, Karen Donohoe, Paul Robinson, Paul Banks, James McLeod, Anthony Prior.
(Row 5 L–R) Samantha Lelong, Gemma Leonard, Rachelle Robinson, Kristy Baker, Kaitlyn Atkins, Alison Farmer, Lisa Tadd, Judith Mann, Kerry Sayer, Jon Williams, Emma Crawford, Luke Talbot, Dean Docking, Adam Palfreyman, Scott Marriott, Mike Webster, Kate Nunn, Sue Ekins, Brett Smith.
(Row 4 L–R) Anna Clark, Dr Michaela Guest, Sarah Hugo, Keith Davis, Lucianne Watson, Tim Grabovszky, Jacquie Coad, Michelle Weeding, Jarred Claydon, Gregory Stanton, Kaine Beveridge, Shaun Killian, Jo Triffett, Jemima Robertson, Natalie Wren, Susan De Paoli, Madeleine Botte, Jodi Rossiter, Rachel Williams, Rachael Honey.
(Row 3 L–R) Kate Berry, Caroline McCreary, Georgina Eyre, Judy Smith, Elise Thurlow, Maria Blight, Kate Foster, Melissa Johnson, Susan Hall, Dean Eddington, Luke Dabner, Philippa Calvert, Pip Hale, Bonnie Jones, Pauline Hillhouse, Kate Reid, Bec Terry, Emma Murcer, Mikaela Campbell, Bridget Anning, Yanira Brito.
(Row 2 L–R) Samantha Judd, Stella Daglas, Patrick Twyford, Jane Blakeway, Gaye McEwan, Melissa Smith, Megan Watson-Thornbury, Sally Westcott, Kent Moore, Jayne Duffy, Anna Maguire, Kate Woods, Greg Rowlings, Emma Brookwell, Margaret Mason-Cox, Katie Richardson, Lesley Richardson, Donna Brown, Kellie O'Connor, Emma Griffiths.
(Front Row L–R) Fraser Bolton, Jane Dutton, Kate Langridge, Giovanna Padas, Jane Healzewood, Rev Dr Lee Weissel, Rev Mark Holland, Cath Hogan, Jason Reeves, Dr Rob McEwan, Richard Davies, Ken Kingston, Stephen Coventry, Iain Belot, Cameron Greenhill, Ganga Fraser, Dr Joy Barber-Milojevic, Naomi Pritchard-Tiller, Anne Mather.
Please note: Some members of staff were absent on the day this was taken. For a complete staff list, please see Virtus 2021.